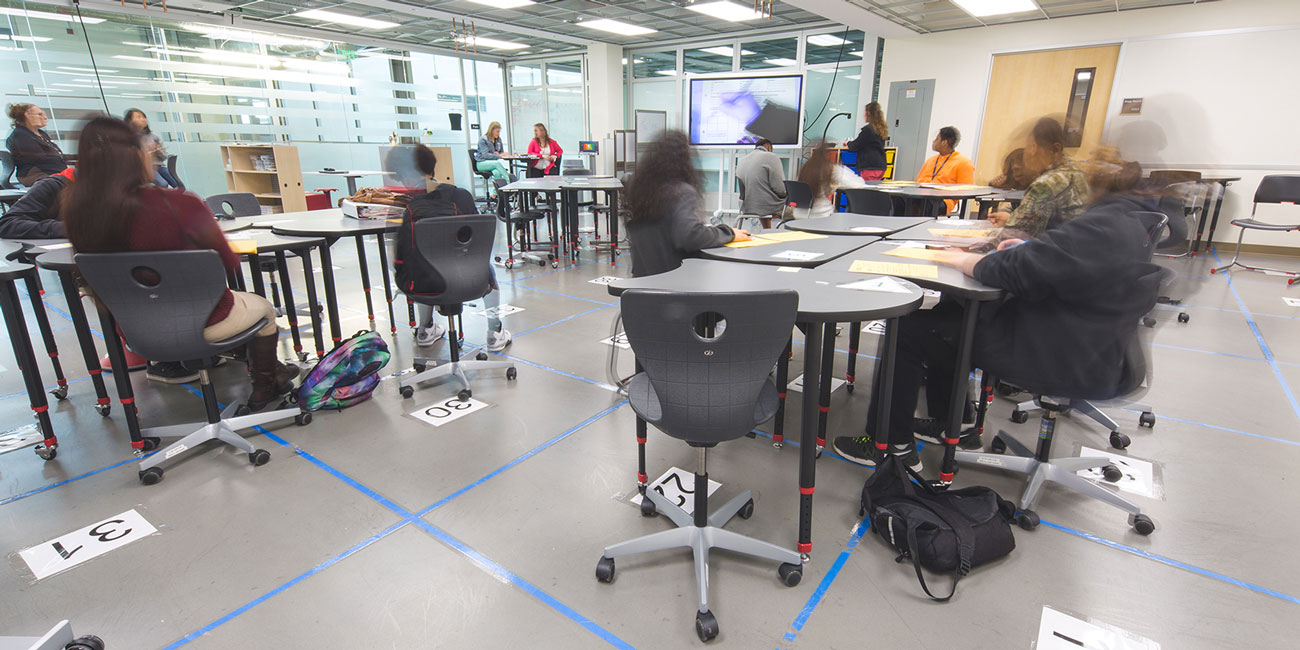 Huckabee forms research venture with Baylor and ESC Region 12
The Education Service Center (ESC) Region 12, in Waco has partnered with Huckabee, an educational architectural, engineering and management firm, to design and test the next-generation of innovative classrooms and laboratories in a near-6,000-square-foot educational research facility to be located in the BRIC. The partnership constitutes the first project fully dedicated to one of the founding objectives of the BRIC: furthering education and research in the science, technology, engineering and mathematics (STEM) disciplines.
The research partnership will allow teachers and students to "test-drive" the Huckabee-designed learning spaces developed in the BRIC for periods of days, weeks and even months. During this time, Baylor researchers will observe both teachers and students, compiling data to evaluate the effectiveness of each new concept. Based on data collected, Huckabee will provide new or improved designs, with the most successful design elements eventually deployed in school districts throughout the state.
Dr. Jerry Maze, ESC Region 12 executive director views the opportunity as a "three-way-win" for everyone involved.
"It's such an exciting concept because it will give our teachers and students an opportunity to be trained on state-of-the-art equipment and designs. At the same time we will have the benefits of the metrics and of knowing the impact we're having on student achievement," he said. "In addition, Huckabee will know which design concept they can best refer to their clients, and Baylor will perform the research that's associated with the project."
The architecture firm's CEO, Christopher Huckabee, is a two-term member of the Texas Higher Education Coordinating Board. He says that, for his firm, the facility constitutes an invaluable "flexible-classroom laboratory" that will focus on developing modular spaces that can be easily and quickly reconfigured into learning environments specifically tailored to teaching each subject in a way that accommodates how middle- and high-school students learn in the digital age.
"Our learner today is a very unique learner even from just ten years ago," Huckabee explained. "Today's students don't necessarily learn from a teacher standing in front of a classroom lecturing to them; they learn through individual study and group collaboration, from distance learning, video conferencing and different types of media. The classroom is changing dramatically."
Expectations for success are high among all participants as they anticipate a BRIC move-in this fall. "We are all very excited," Maze said. "It is a powerful opportunity for three entities such as Baylor, Huckabee and ESC Region 12 to work together for such a large number of teachers and students in our 12-county region. It's a unique, intellectual challenge and we certainly look forward to the partnership and the benefits it will have for education in this region."
Dr. Truell Hyde, Baylor vice provost for research and director of the Center for Astrophysics, Space Physics and Engineering Research, is also very pleased with the development of this major STEM initiative in the BRIC.
"Educational research and STEM programs are essential to the economic development of the region," Hyde said. "Long-term, quantifiable research providing data accurately evaluating the effects of both the classroom environment and curriculum intervention does not exist. This partnership establishes Baylor, ESC Region 12 and Huckabee at the cutting edge of this fundamental question."
ABOUT ESC REGION 12
Education Service Center Region 12 focuses on helping schools save money and leverage resources into the classroom. One of 20 regional education service centers statewide, ESC Region 12 offers training and expert assistance to educators and school personnel in order to increase student achievement. Based in Waco, ESC Region 12 serves 77 school districts, 12 charter and private/parochial schools in Bell, Bosque, Coryell, Falls, Freestone, Hamilton, Hill, Lampasas, Limestone, McLennan, Mills and Navarro counties.
ABOUT HUCKABEE
Founded in 1967, Huckabee provides comprehensive educational facility services including assessments, master planning, architectural design, interior design, technology and security design, structural engineering, civil engineering and construction administration. The firm has completed over 3,000 educational projects for more than 150 school districts across Texas. Huckabee was selected to rebuild the West ISD high school and middle schools destroyed in the tragic April 17, 2013 fertilizer plant explosion.
ABOUT BAYLOR UNIVERSITY
Baylor University is a private Christian university and a nationally ranked research institution, characterized as having "high research activity" by the Carnegie Foundation for the Advancement of Teaching. The university provides a vibrant campus community for approximately 15,000 students by blending interdisciplinary research with an international reputation for educational excellence and a faculty commitment to teaching and scholarship. Chartered in 1845 by the Republic of Texas through the efforts of Baptist pioneers, Baylor is the oldest continually operating university in Texas. Located in Waco, Baylor welcomes students from all 50 states and more than 80 countries to study a broad range of degrees among its 11 nationally recognized academic divisions. Baylor sponsors 19 varsity athletic teams and is a founding member of the Big 12 Conference.